On July 8, 2011, Governor Jerry Brown signed Senate Bill 221 into law., effective Jan 1, 2012. SB 221 increases the Small Claims Court jurisdictional limit from $7,500 to $10,000 with two caveats. First, the jurisdictional limit of the Small Claims Court will remain $7,500 for claims of bodily injury resulting from a car accident if the defendant in the action is insured and the insured's policy includes a duty to defend. Second, the Small Claims jurisdictional limit will remain $5,000 for suits brought by entities such as corporations, limited liability companies, partnerships and the like.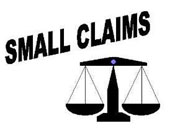 It should also be noted that pursuant to California Code of Civil Procedure Section 116.231, an individual may not file more than two small claims actions that exceed $2,500 in any year.
For more information about Palos Verdes and South Bay Real Estate and buying and selling a home on the Palos Verdes Peninsula, visit my website at http://www.maureenmegowan.com . I try to make this the best real estate web blog in the South Bay Los Angeles and the Palos Verdes Peninsula. I would love to hear your comments or suggestions.