"All American Holiday"
SALUTE TO THE RED, WHITE AND BLUE! Decorate your boat or paddle craft and help make the 2016 boat parade a success. Don't know how to begin decorating your boat - no worries we have the Sea Scout elves available to assist. All entries include admission to the after party at King Harbor Yacht Club. Boat entries include two meal tickets. You could win one of the many awards. For more information contact Karen Keidser (310) 617-0866. Enter today!
Saturday - December 10th
4:30 PM - Paddlecraft
5:30 PM - Decorated Boats
Location: King Harbor Main Channel
Best Parade Viewing Locations
Free Bleachers at King Harbor Marina/Moonstone Park (first come/first serve)
Redondo Beach Marina Sportfishing Pier and Seawall
Portofino Hotel and Marina Lobby and Seawall
Seaside Lagoon Seawall
Boat Entries
To register a boat for the parade complete this Entry Form and email it to Karen Keidser or drop it by King Harbor yacht Club - 280 Yacht Club Way, Redondo Beach 90277. To pay for your boat parade entry, or to make a general donation please go to the Boat Parade Store. 
Paddlecraft Entries
To enter paddlecraft in the parade go to our Eventbrite Page. For paddlecraft information and questions contact Chris Schmidt (310) 918-2731 or chris@caskeyandcaskey.com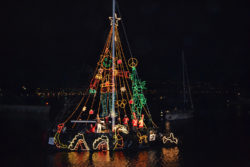 For more information about Palos Verdes and South Bay Real Estate and buying and selling a home on the Palos Verdes Peninsula, visit my website at http://www.maureenmegowan.com . I try to make this the best real estate web blog in the South Bay Los Angeles and the Palos Verdes Peninsula. I would love to hear your comments or suggestions.